under the auspices and protection of the Anglican Rite Catholic Church ( Catholic Church-Anglican Rite) , Archdiocese of the Pacific Northwest
Welcome to our website
Let me introduce you to the Order of Saint Benedict- Chapter of Saint Jude, we are an independent ecumenical Catholic Order of Saint Benedict that ministers within the inner city of Portland, Oregon ministering to the social outcastes of society, the poor, the needy, run away teens, alcoholics, the ill, those who are infected with Hepatitis and Aids. We within this Order take an active role with working with other urban churches which include local Episcopal Churches, Baptist, Pentecostals and many other church from many forms of Christian denominations. We also work with many food banks, local social services, and local hospitals to reach out to those who need our help the most within the City of Portland Oregon. Our call is to do what Christ said "If you feed the poor, the sick, visit those in prison, give your coat to those that need it more than you, than you also have served me." Our small order now as five brothers associate with our order. If you want to join as a religious please read the paragraph below.
Calling Monastic Vocations for our Order
We are looking for godly men that are willing to move to the City to Portland, Oregon that feels that they are called to service to work and ministry within our Benedictine Order and who want to find more of purpose for their lives. That does not mind to sacrifice themselves to serve others that are in needs of our help. We serve has Christ wants us to serve and that is to serve those who are in more need then we are.
We also interested in starting Sisterhood of our Order that would serve along with us.
For those who are interested in affiliating with us as laymen, we also have an Oblate Association affiliated with us.
We do have a place of residence that as a Brothers of the Order stays at. All our religious do hold secular employment to help support themselves and our ministry.
St. Jude's Chapel
A beacon of hope and love for the City of Portland Oregon
Communion at 10 am on Sundays
The Order of Saint Benedict-Chapter of Saint Jude runs a local chapel that meets on every Sunday, Holy Days and special occasions with people that have no church home, and who have been searching for Christ within their lives. We are their church home. Our average attendance is from 50-100 people per service. Our liturgy is an simplified liturgy that mixes the elements of both western and eastern liturgical families. Our people that attends St. Jude's Chapel volunteer at the local food banks in helping to hand out food to those who would other wise not have a meal. We are open to working with ecumenically with other Christians, in fact we have open communion to all baptized Christians at our services. In our own services we not only have Holy Communion but we also use modern praise and worship music with traditional hymns, which we have our worship tilt to help people fill welcomes, while remaining true to the traditions of the Church's past.
The Anglican Rite Catholic Church, Archdiocese of the Pacific Northwest
The Anglican Rite Catholic Church, Archdiocese of the Pacific Northwest a.k.a Catholic Church- Anglican Rite is an ecumenical Catholic jurisdiction that the Order of Saint Benedict Chapter of Saint Jude is under. We are in full communion with the Celtic Christian Community-Order of St. Ninian, who's web site is at http://www.ourchurch.com/member/s/stninian/ , and with the Ecumenical Orthodox Catholic Communion at http://eocc.net
Abbot Archbishop Matthew
Our Abbot, Bishop Matthew B. Smith is the Archbishop of this jurisdiction and was consecrated within Eastern Orthodox, Anglican, and Roman Catholic Lines of Apostolic Succession in the year 2000. Abbott Matthew has been doing ministry in the city of Portland since 1989. He has a Masters Degree and Doctorate Degree in Religious Studies, and soon to be will have a Doctorate in Social Work.
Services available
Abbott Matthew is available to do weddings, first communions, baptisms, Christening, Confirmations, and many other special occasions and ceremonies that families and couples seek and would ask of his assistance in those occasions. There is a request of a stole fee to help support the ministry of the Order of Saint Benedict Chapter of St. Jude. Please contact him to talk about your occasion.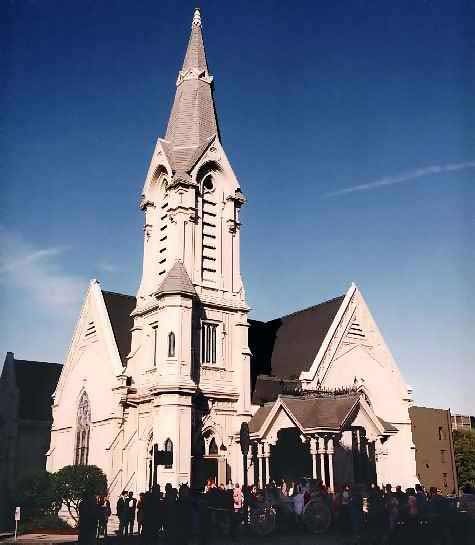 One of many places that St. Jude's Chapel meets at called the Old Church
Contact information:
Abbot-Archbishop Matthew Smith
Order of Saint Benedict Chapter of St. Jude.
1240 SW Columbia, Suite 903
Portland, OR 97201-8331
Tel. 503-222-2282
E-mail: Abpmatthew1@aol.com
2003 © Anglican Rite Catholic Church, Archdiocese of the Pacific Northwest